Governor (on leave of absence 23 Sep 2023 – 30 jan 2024)
Olli Rehn
Governor of the Bank of Finland Olli Rehn requested the Parliamentary Supervisory Council to grant him a leave of absence to begin at the time he is appointed as a candidate in the 2024 Finnish presidential election. The Parliamentary Supervisory Council granted Rehn a leave of absence in accordance with his request. The leave of absence began on 23 September 2023 and will last until 30 January 2024.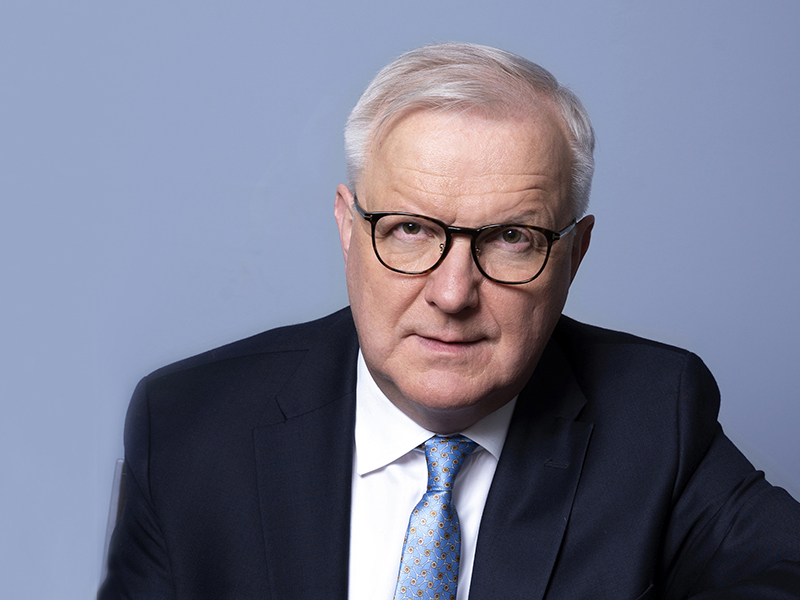 Assistant
Mari Hämäläinen
09 183 2010 / +358 9 183 2010
mari.hamalainen(at)bof.fi
Telephone
09 183 2001 (national)
+358 9 183 2001 (international)
Email
olli.rehn(at)bof.fi
TWITTER
Address
Snellmaninaukio
00170 HELSINKI
FINLAND
Postal address
Bank of Finland
PO Box 160
FI-00101 HELSINKI
FINLAND
Curriculum vitae
Dr Olli Rehn is Governor and Chairman of the Board of the Bank of Finland. He has been Governor as of 12 July 2018. Dr Rehn is responsible for monetary policy preparation, domestic economic policy, external communications, international affairs and internal audit. Governor Rehn is a member of the Governing Council of the ECB.

Mr Rehn has held European and international posts for many years. He was Vice-President of the European Commission in 2011–2014. As a Member of the European Commission, he was responsible for Enlargement in 2004–2010 and for Economic and Monetary Affairs in 2010-2014, when his responsibilities included the reform of the rules of Economic and Monetary Union, financial assistance programmes for the distressed countries, and the preparation of stability mechanisms. Mr Rehn represented the European Commission on the Governing Council of the European Central Bank, in G7/G20 cooperation and at meetings of the International Monetary Fund in 2010–2014.

Mr Rehn served as Minister of Economic Affairs in Prime Minister Sipilä's Government in 2015–2016, having been elected Member of Parliament from Helsinki in April 2015. He was a Member of Parliament also in 1991–1995. Mr Rehn was a Member and Vice President of the European Parliament in 2014–2015 and was a member of the first group of Finnish MEPs in 1995–1996.
Mr Rehn holds a degree of Doctor of Philosophy (DPhil) in international political economy from the University of Oxford (1996). In his doctoral thesis, Mr Rehn analysed corporatism and industrial competitiveness in small European states. Mr Rehn had previously graduated as Master of Social Sciences (Political Science) from the University of Helsinki in 1989.
Mr Rehn's leisure time interests are football, reading, rock music and jazz.
Mr Rehn was born on 31 March 1962. His family includes his wife Merja and daughter Silva, born in 1998.
There are no items to display.
The Bank of Finland publishes the Governor's monthly calendar with a lag of about three months.
The monthly calendar includes appointments with external parties, complementing the other information available on the Bank of Finland website, such as the Governor's schedule of forthcoming appearances.
2023
2022
2021
2020
2019
2018
December 2020
May 2020
October 2019
July 2019
June 2018